Evolution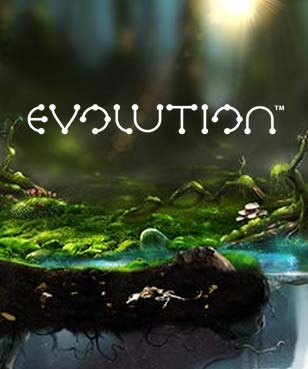 Evolution will actually make you wonder in amazement at the thought that went into the narrative of the game; Our Evolution. This slot will encapsulate and give you joy just by playing; winning is a bonus.
Theme & Graphics
As you know, we came from a single cell amoeba swimming about in the water, and launching into Evolution means taking a deep dive into the ocean. Evolution has a bit of an undulating upside-down atmosphere; the reel actually spins upwards which is cool and unusual.
The game is very immersive (forgive the pun). Meaning, it's very engaging, you can lose yourself in the "biological life forms light show" as they dance and explode in a cacophony of colours as you get winning lines.
What does it cost to play?
You can wager between €0.01 and €0.50 per line. You can vary your bet by changing the bet level between 1 and 10. If you set all the levels to maximum, the cost of play will be Euro 125.00. per spin. The RTP is 96.3%
Gameplay
Evolution contains 5 reels over three rows and has 25 fixed pay lines. The fascinating creature symbols are all based on evolution. The low-value symbols are one cell microbes Crustacio Springum' Jellocus Finnum, Jellocus Squidae, Blobulus Astrum and Primo Blobulus; who play host to A, J, Q, K. Higher values are represented by creatures in various stages of animated evolution: Draconius Rex, Basilisk Pluma, Basilisk Hairicus, Bestia Dentum, and Albus Slugus.
The "Free Spin", the "Wild" and 10, are inside a bubble, and "Scatter" are all written on the screen as you play. Oh! How's your Latin? Because it will come in handy in recognizing many of the early and primitive life forms. Who'd have guessed that a slot game could improve your Latin? Enjoy!