Steam Tower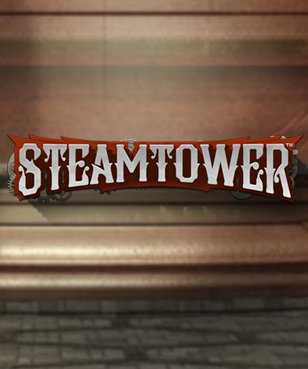 Steam Tower is a casino slot game inspired by Victorian times, and the industrial revolution which defined the era. When you see the game, you'll definitely see that is the case. The crisp graphics depict the characters in traditional Victorian costume, and the aim of the game is to save the princess from the evil dragon at the top of the steam tower (whilst winning some money of course!) The minimum spin is €0.15, whilst the maximum spin is €150. It has a payout percentage of 97%, meaning that there's a great chance of getting your money back at the very least when you play.
Climbing the Tower
The tower you need to climb is 16 levels tall and there are a lot of thrills and spills along the way. Some of these thrills and spills include several bonus features, such as Wild Symbols, Multipliers and Stacked Wilds. The Wild Symbols appear at the beginning of the game when you are on the lower levels on the reels. They help you to get higher up the levels. What level you are on is indicated by a floor metre.
The Multiplier does just that, multiply the potential bet line wins. There is a Multiplier metre which shows you this. There's a great incentive to reach the top level, as when you get to the top you will get 1000 coins from the Multiplier as a reward.
The Stacked Wilds activate the free spins. One or more Wilds appearing on the reels will double the amount of free spins. On the first floor, you get a 2x Multiplier. This increases by one every 3 floors, and by the 6th floor you get a 7x Multiplier.
Steam Tower is a great game with a wide appeal. It's fun, but is also a bit of a challenge to keep you on your toes. The challenge is definitely worth it!